We don't just do Surgery. We take care of people.
FACIAL FILLERS DALLAS, TX
Injectable fillers can restore volume and hydration to the face
Do you have a tired appearance, deep shadows under your eyes, thin lips, or hollow areas in your cheeks or around your mouth? Injectable fillers can improve the look of fine lines and restore volume to the face. Fillers are a non-surgical way to instantly transform a tired look into a youthful, rested appearance. At Dallas Surgical Arts, we carry a full collection of dermal fillers to help you achieve your desired aesthetic. Your injector will recommend specific products for you and your cosmetic goals.
Call (972) 914-3660 or contact us online today to learn more about our facial filler options in Dallas, TX.
Dr. Randy Sanovich'S special CANNULA INJECTION TECHNIQUE
Worried about discomfort during the injections? Striving for natural-looking results? Try Dr. Randy Sanovich's special injection technique!
Dr. Randy Sanovich has developed an approach to injecting fillers that eliminates multiple needle marks in the face and reduces discomfort dramatically. Almost all injections are made using blunt micro-cannulas. A cannula is highly advantageous for the patient as pain, bruising, swelling, and length of the treatment have been minimized. The microcannula will safely navigate around blood vessels as it moves the tissue under the skin. The cannula technique gives Dr. Randy Sanovich the flexibility to easily feather the product throughout multiple dermal layers and almost the entire desired area can be treated with fewer entry points. For your comfort, our injectors will apply vibration and local anesthesia to the face during all filler injections. At Dallas Surgical Arts, all of our injectors are trained to use Dr. Randy Sanovich's technique.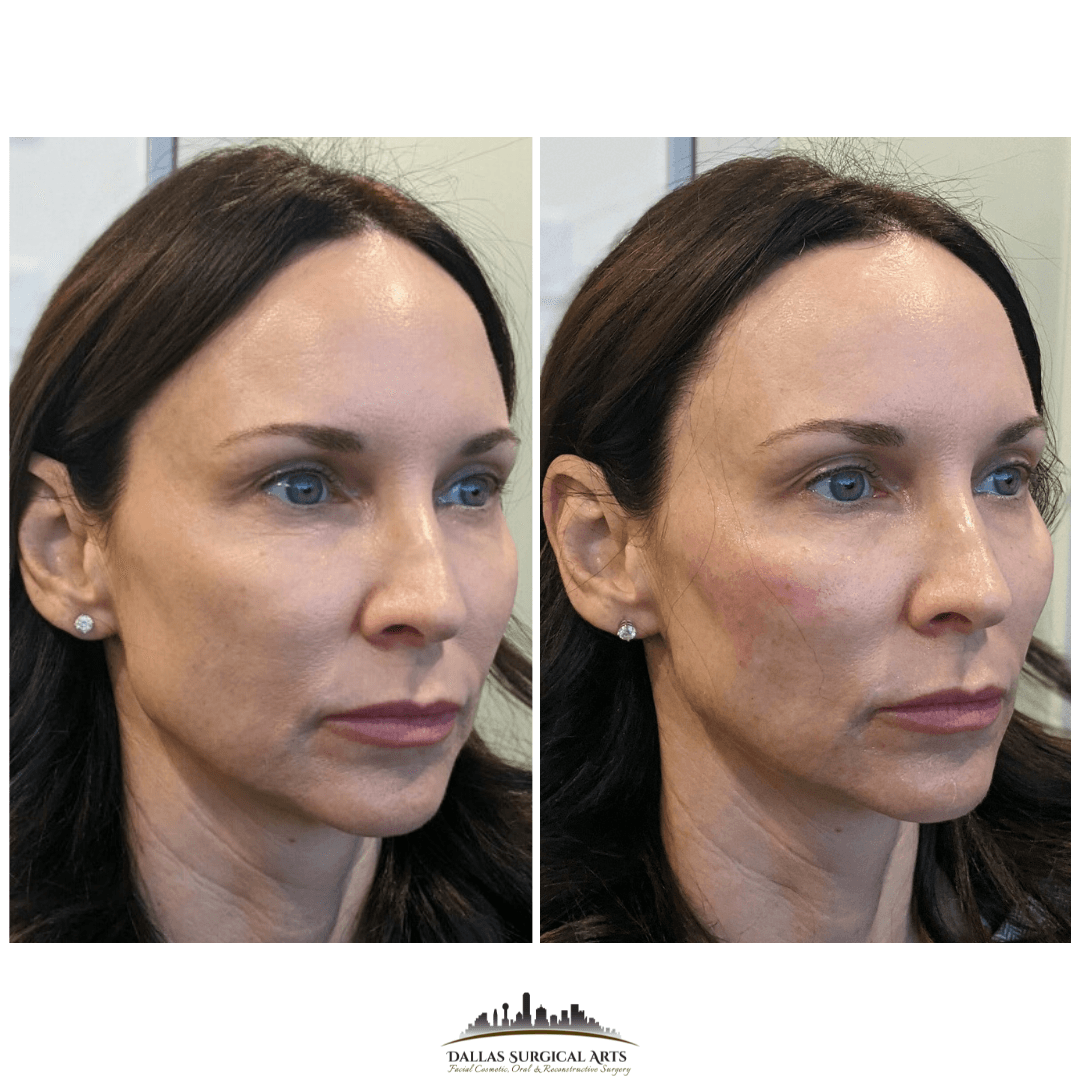 The advantages of Sanovich's filler technique include:
Limited needle marks on the skin by using a micro-cannula
Reduced bruising
Reduced swelling
Almost no discomfort
Precise contouring and ideal smoothness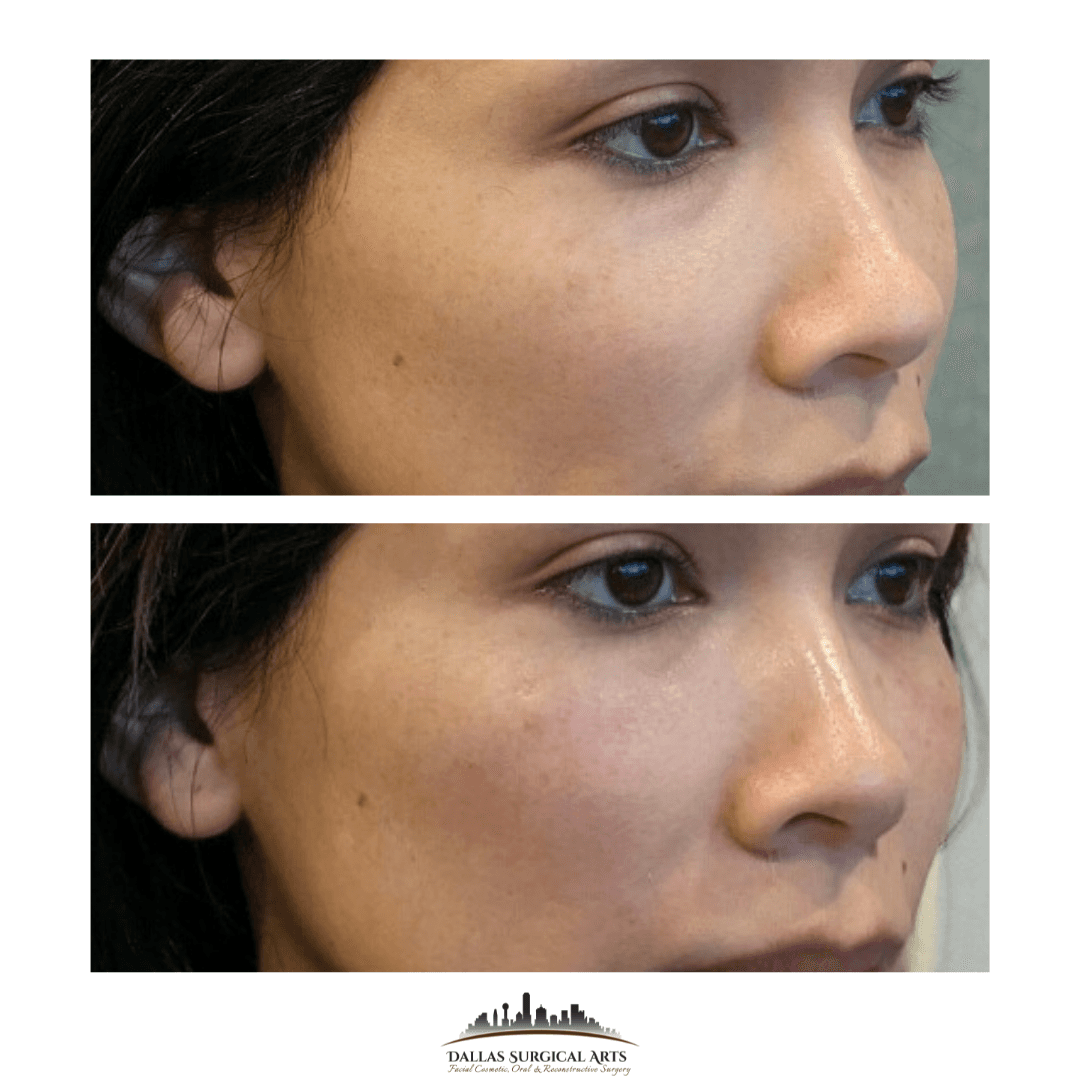 What Are Dermal Fillers?
Dermal fillers are injectable substances used to restore volume and fullness to the face, diminish the appearance of wrinkles, and improve facial contours. They are commonly used in cosmetic dermatology to address signs of aging and to enhance facial features. These fillers are typically made from various materials, including hyaluronic acid, calcium hydroxylapatite, and poly-L-lactic acid, among others.
They can effectively reduce the appearance of fine lines, wrinkles, and creases, plump up lips, and improve the overall smoothness and youthfulness of the skin. Dermal fillers are often considered a non-invasive and temporary alternative to surgical procedures, providing natural-looking results with minimal downtime.
What causes lines and wrinkles?
As we age we lose elastic tissue in our skin and fat from under our skin. Collagen and hyaluronic acid in our skin decreases and the elastic fibers become looser, creating wrinkles and folds. However, age is not the only cause of wrinkles. Heredity, smiling, frowning, squinting, smoking, sun bathing and pollution can all damage the structure of your skin, regardless of your age. The formation of lines and creases on the face and the thinning of lips are a natural part of living, not just aging. But, you can dramatically minimize lines and creases and restore vitality to your face with injectable fillers. Many people are looking for a slightly fuller shape for their lips, or contoured cheeks and jawline. Just a touch of additional volume can make a dramatic difference to your appearance. The ideal approach to reversing these aging effects is to safely restore volume and hydration to the face. Restylane, Juvederm, and Sculptra dermal fillers and collagen stimulators are just a few injectables that can help you achieve your desired look.
What is Restylane®?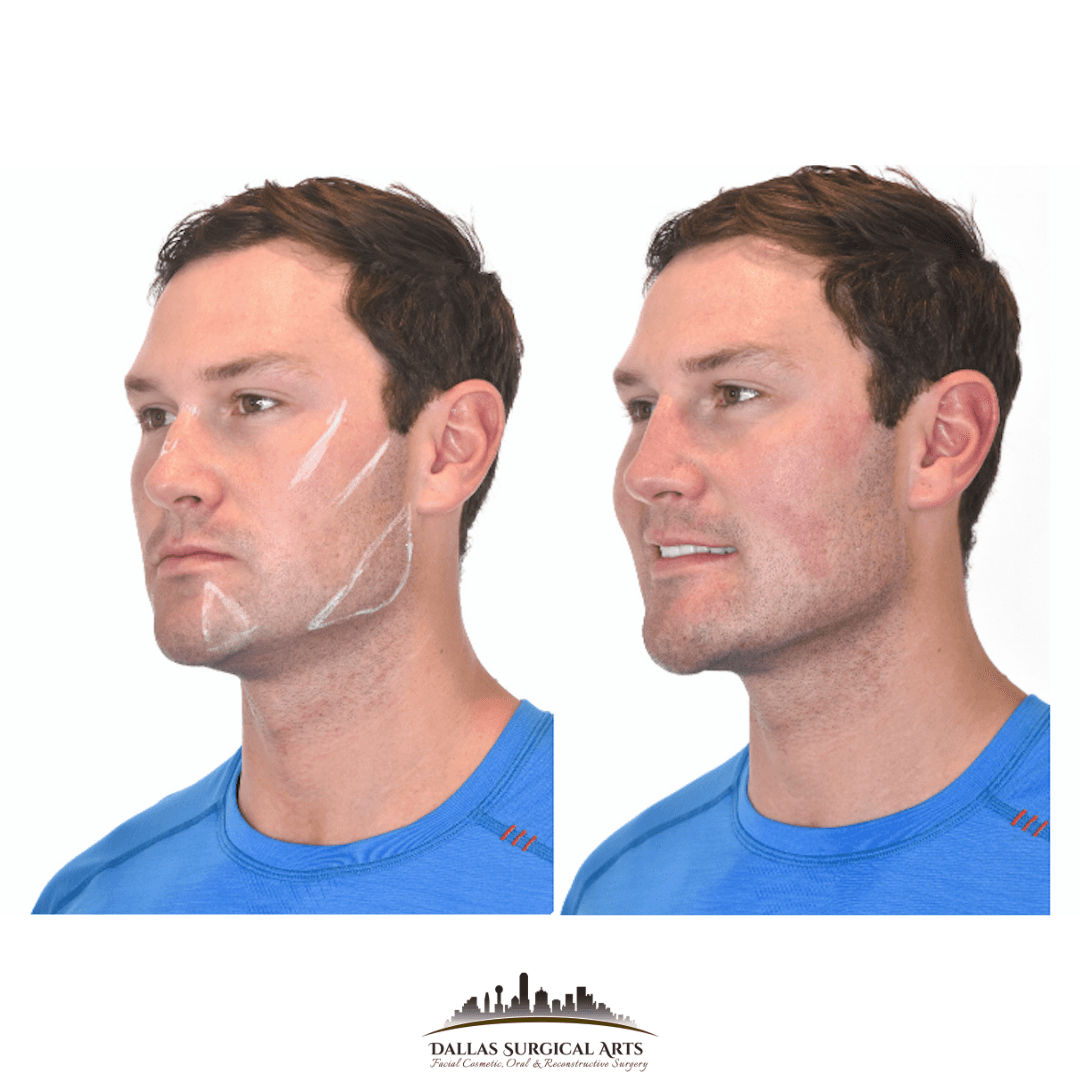 Restylane® is a dermal filler made from hyaluronic acid, which is the hydration that is naturally present within your body. Noticeable volume and youthful contours of our skin depend on hyaluronic acid production. With Restylane filler, you can restore lost volume and give a natural contour to the face with a product that is safe and naturally-occurring in the body. The clear gel is injected under the skin in tiny amounts with a very fine, blunt-tip cannula. The session usually takes less than thirty minutes, and the results are instantaneous. Restylane is not a permanent treatment but it is long-lasting and bio-absorbable. Depending upon the product used, dermal fillers will last 6-12 months or more before being completely reabsorbed by the body. We have a collection of Restylane fillers that can help you achieve your desired aesthetic!
What is JUVÉDERM™?
JUVÉDERM™ is another hyaluronic acid gel that is injected into facial tissue to smooth wrinkles and folds, around the nose, mouth, cheeks and jawline. The role of hyaluronic acid in the skin is to deliver nutrients, hydrate the skin by holding in water, and to act as a cushioning agent. Hyaluronic acid occurs naturally in the body, which makes fillers like Juvederm feel completely normal in our tissue.
Typical Restylane® or JUVÉDERM™ treatment includes
Lip augmentation
Smoothing crows feet
Filling and smoothing fine lines and wrinkles of the face
Is filler treatment uncomfortable?
Many patients are pleasantly surprised by the minimal discomfort of the treatment. Following Dr. Randy Sanovich's technique, a small amount of local anesthetic solution is incorporated into the filler product and is injected with a cannula to minimize bruising and swelling.
How do you pick the best product to use in a specific area?
The product that Dr. Randy Sanovich chooses to inject used will depend on the area of the face and your desired results.
restylane® products at Dallas surgical arts
Restylane-L
Lyft
Refyne
Defyne
Contour
Kysse
juvéderm™ products at Dallas surgical arts
Voluma
Volux
Vollure
Volbella
Ultra
Ultra +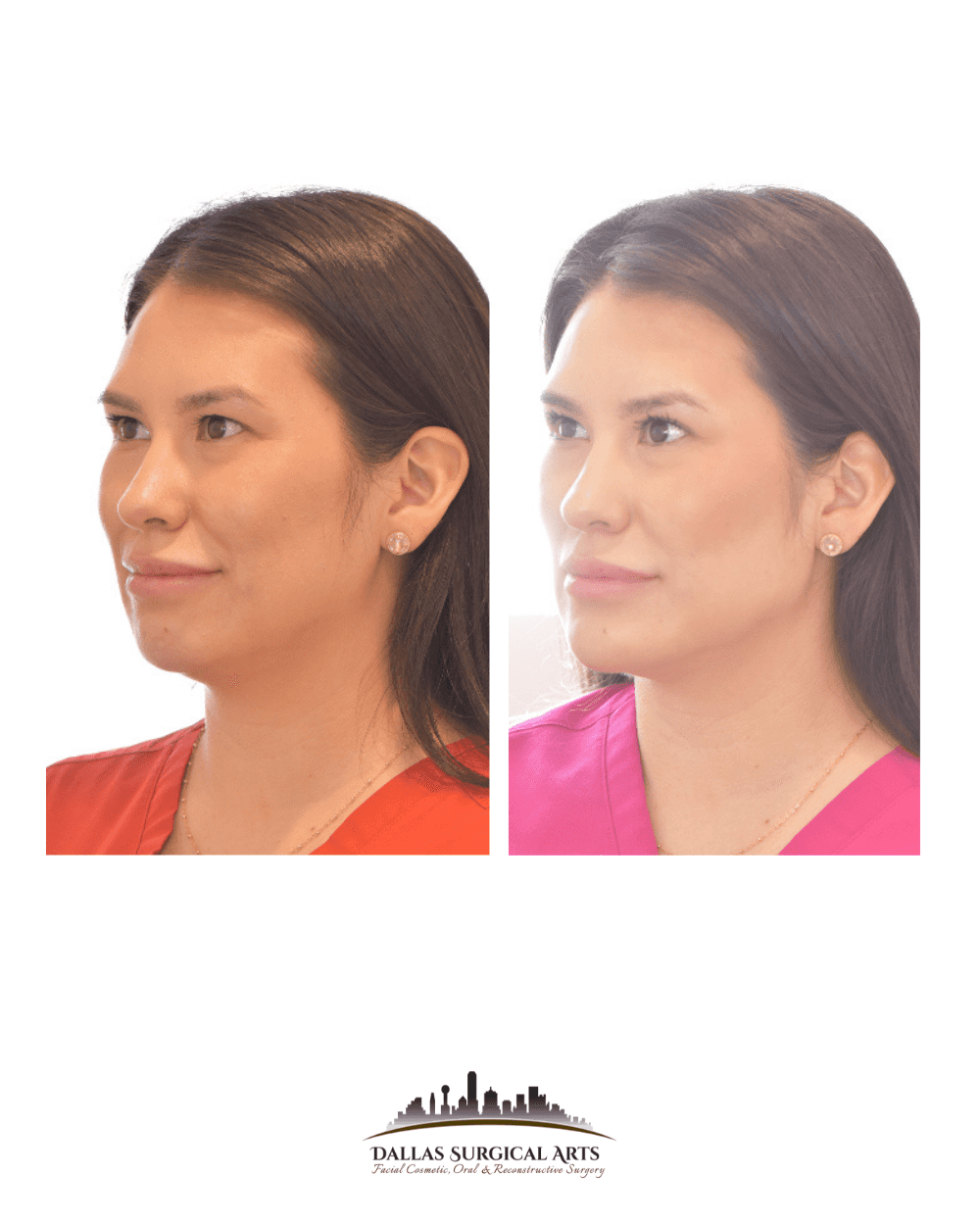 Can a face-lift or other surgery be performed after filler treatment?
Yes. A face-lift can be performed after Restylane or Juvederm treatment. These fillers can sometimes reduce or eliminate the need for a facelift or other surgery, or can delay the need for repeated surgery. These fillers may also be injected at the time of facelift, or other surgery, to assist in achieving the desired result.
When is Fat Transfer Augmentation preferred over Restylane or Juvederm?
Fat Transfer Augmentation is preferred over other fillers when the volume of material needed is more than 6 or 7 syringes. If more than this amount of filler is needed, it will be less expensive to do fat transfer, and the effect may last considerably longer with fat. In many full face fat transfer cases, more than 40cc of fat are injected. Each 1cc of Restylane or Juvederm will produce augmentation equivalent to 2cc of fat, but it will need to be repeated in 6 to 9 months. This volume of augmentation with filler would cost twice as much as a fat transfer.
How much do fillers cost?
Restylane and Juvederm can be very affordable, especially when patients take advantage of our special offers, Alle rewards and Aspire rewards programs. We offer tiered pricing to give our patients a discount on multiple syringes. Please call our office regarding our fees for these treatments.
How much experience do we have with facial fillers?
Dermal fillers are extremely safe, and more than 27 million patients all over the world have been treated with various hyaluronic acid-based dermal fillers over the years. Studies show that the vast majority of them were so happy with their results that they wanted to have the treatment again. Dr. Randy Sanovich and the Dallas Surgical Arts injectors have been treating patients for years with FDA-approved dermal fillers.
What will filler look and feel like after I have been treated?
Restylane, and Juvederm are clear gels with textures that mimic your normal tissue. In fact, your own tissues will integrate with the material as a natural process of your body. The amount injected can be accurately controlled, so you can achieve the exact amount of enhancement you desire. Individuals who have received filler treatment are very pleased with its natural feel and aesthetic.
Can different brands of fillers be used together?
Restylane and Juvederm products can be used in combination with each other. Fat may also be used in combination with Restylane and Juvederm.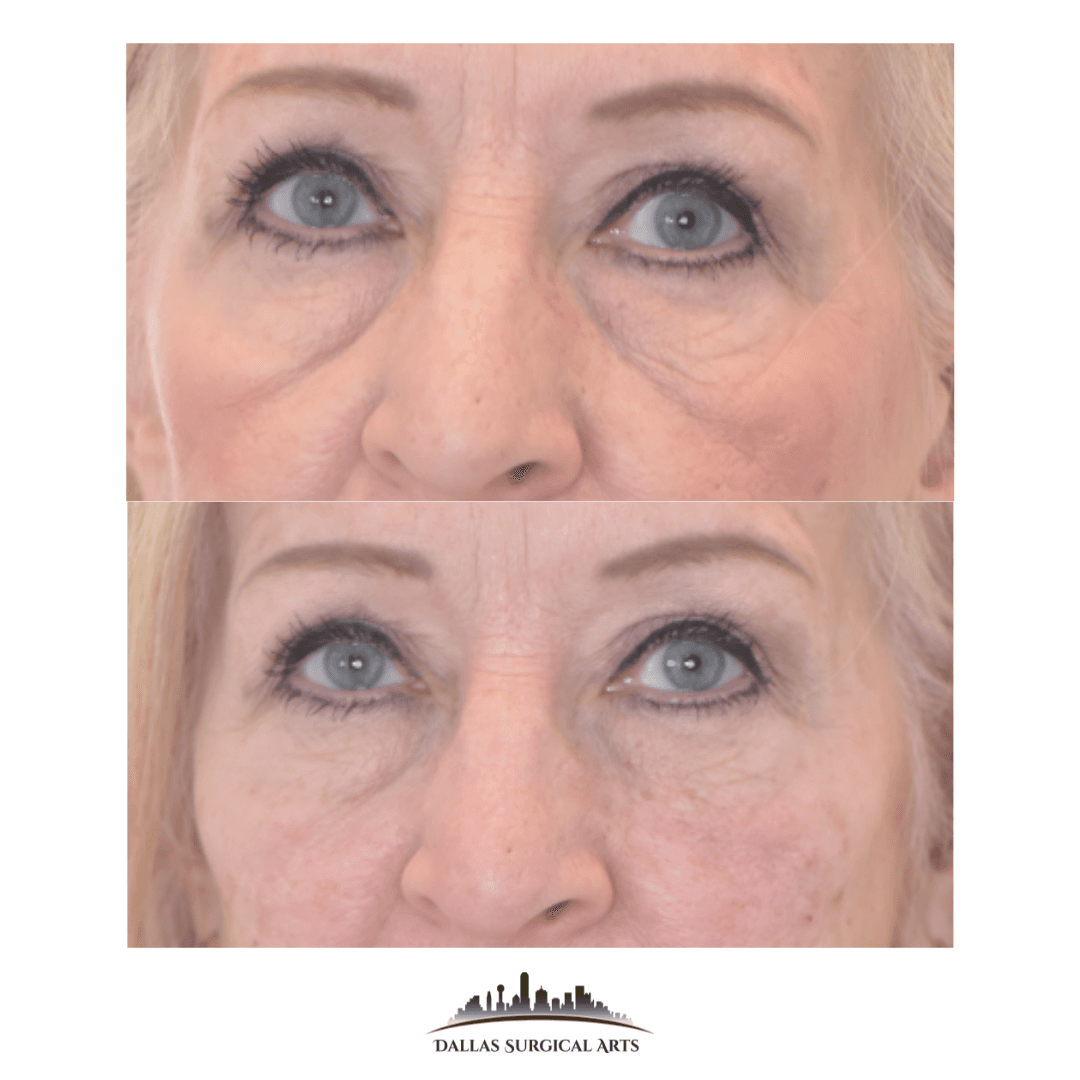 Can fillers be used during pregnancy?
We always recommend checking with your OBGYN or primary care doctor before scheduling any cosmetic injections while pregnant.
Dermal fillers are…
Long-lasting, but bio-absorbable and non-permanent
Can last 6-12 months or more before being completely reabsorbed
Effects can be cumulative – smaller volumes are sometimes needed for maintenance treatments
Have no animal ingredients
No skin test is needed
What is Sculptra®?
Sculptra® Aesthetic is an FDA-approved injectable that helps gradually replace lost collagen — an underlying cause of facial aging — for results that can last more than two years. It is primarily injected in the nasolabial folds, commonly referred to as "smile lines," in the lines framing your mouth, known as "marionette lines," and in the chin area to treat wrinkles.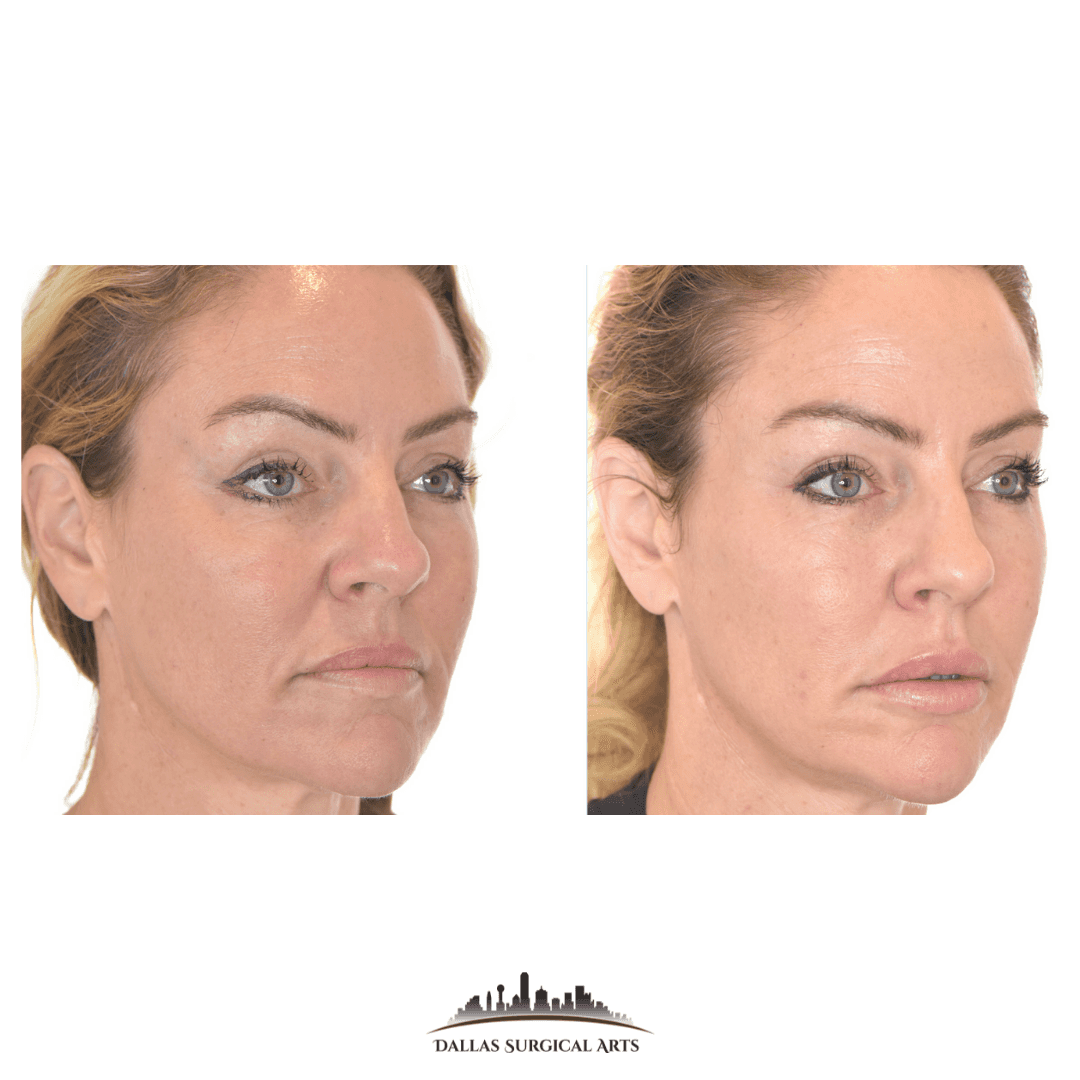 Facial fillers are liquid or gel substances, like hyaluronic acid, that diminish lines by pushing up the dermis space beneath wrinkles and creases. Results appear immediately and can last up to several months. Collagen stimulators are different, as they are used to diminish facial wrinkles by helping to restore the deep, underlying structure of the skin. Optimal results appear gradually over the treatment regime (typically three injections over the course of three to four months) and are indicated to last up to two years.
As a poly L-lactic acid (PLLA) collagen stimulator, Sculptra Aesthetic works with your body to help revitalize collagen production and help restore your skin's inner structure and volume. As the Sculptra Aesthetic PLLA micro-particles are absorbed, they help stimulate neocollagenesis, or the formation of collagen fibers. Rebuilt collagen strands begin gradually restoring facial volume and smoothing wrinkles and folds. With Sculptra Aesthetic, patients may find that they need less hyaluronic acid facial fillers over time as their skin is absorbing the hydration properties of the filler, thus retaining volume.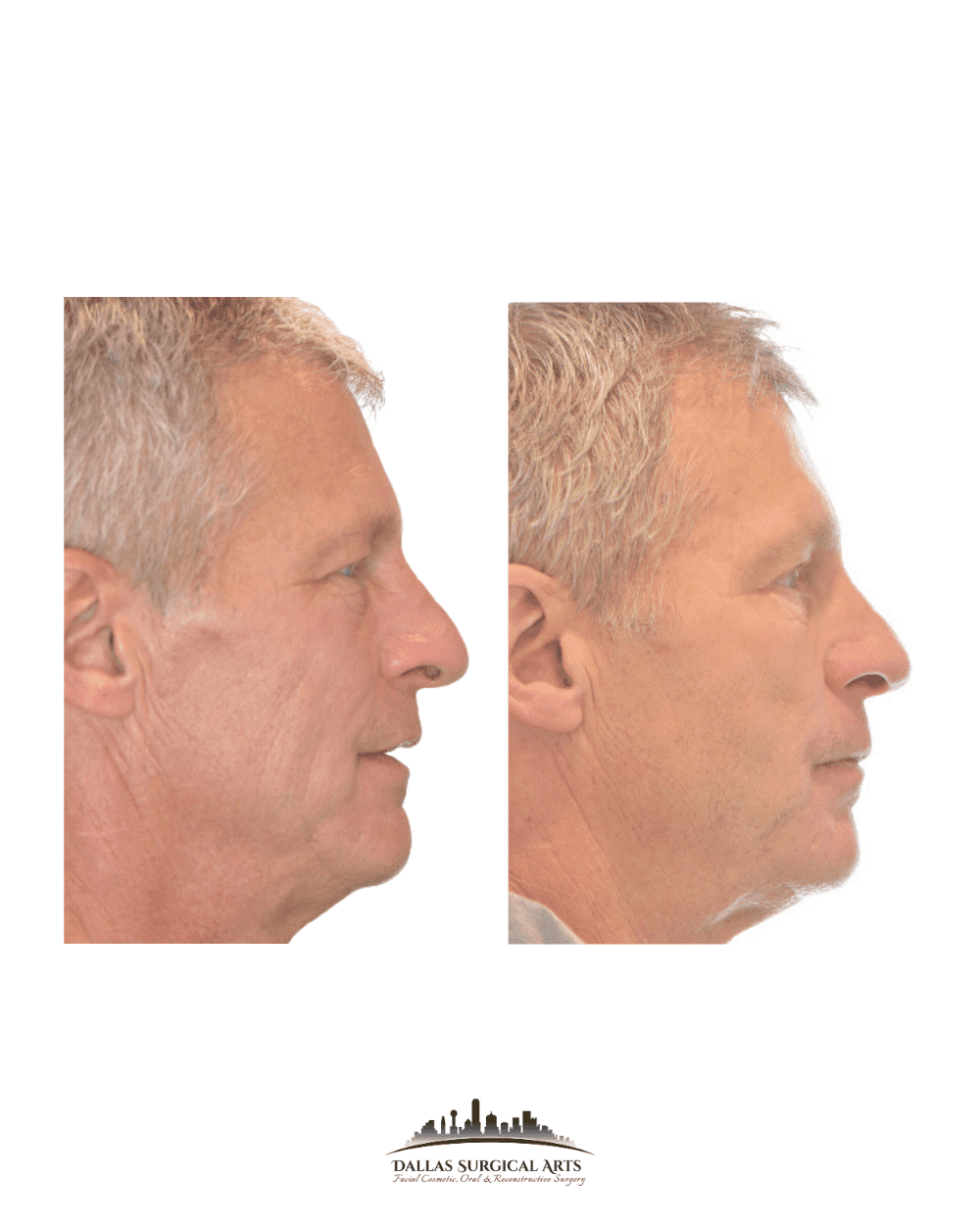 Facial injection Pre-treatment instructions
Bruising is seldom a problem after cosmetic injections. The chance of bruising can be reduced by avoiding aspirin for 7 days prior to treatment, and minimizing your consumption of vitamin E for 3 days before treatment, and excessive alcohol consumption 1 day prior and post treatment. You can bring makeup with you, and you may apply your makeup immediately after treatment. We also sell arnica cream and supplements that can be used to minimize bruising. Our V-Beam laser is available as a great additional treatment option for quickly reducing post-injection bruising and expediting the healing process.
---
post-treatment instructions
After Juvederm or Restylane treatment, you will have some swelling. Bruising is possible but uncommon due to our injection technique. However, occasionally there is some mild pain, itching or redness at the site of injection – similar to what you would experience after any injection. Dr. Sanovich may give you steroid pills which will reduce the degree and duration of swelling. You may use cold compresses, or take acetaminophen, naproxen, Motrin, or other anti-inflammatory medication, to reduce swelling or discomfort.
Redness may last for 1 – 2 days, but occasionally longer in some patients. Swelling in the lips usually lasts for 2 days, but can last for up to a week, and the lips may appear somewhat uneven until the swelling subsides. To allow the filler to properly settle and integrate, try to avoid excessive movement of your facial muscles for the first few days, and in particular during the first 6 hours after your treatment. We advise staying in an upright position for 5-6 hours after injections and avoiding strenuous activity the day of injections. If swelling or redness occur, do not expose the treated area to intense heat (e.g. hot packs or sunbathing) or extreme cold, until it is resolved.
---
call today for a consultation
Please call (972) 914-3660 if you have any questions about dermal fillers, and to arrange for a comprehensive consultation and treatment. Treatment can often be performed the same day as the consultation. Our staff will take the time necessary to discuss your aesthetic goals and treatment options, and answer all of your questions.
Dallas Surgical Arts offers injectable facial fillers for patients in Dallas, TX. Call (972) 914-3660 to schedule a consultation.
Patient Focused

Your comfort and care is at the top of our list. Our team makes it a point to provide each patient with top notch care.

Comprehensive Approach

Specializing in oral maxillofacial surgery as well as reconstructive surgery allows us to accomplish your overall goals.

Individualized Care

We treat each of our patients as an individual, and provide care according to their specific needs.

Innovative Technology

We are cutting-edge and use the most advanced technology and techniques.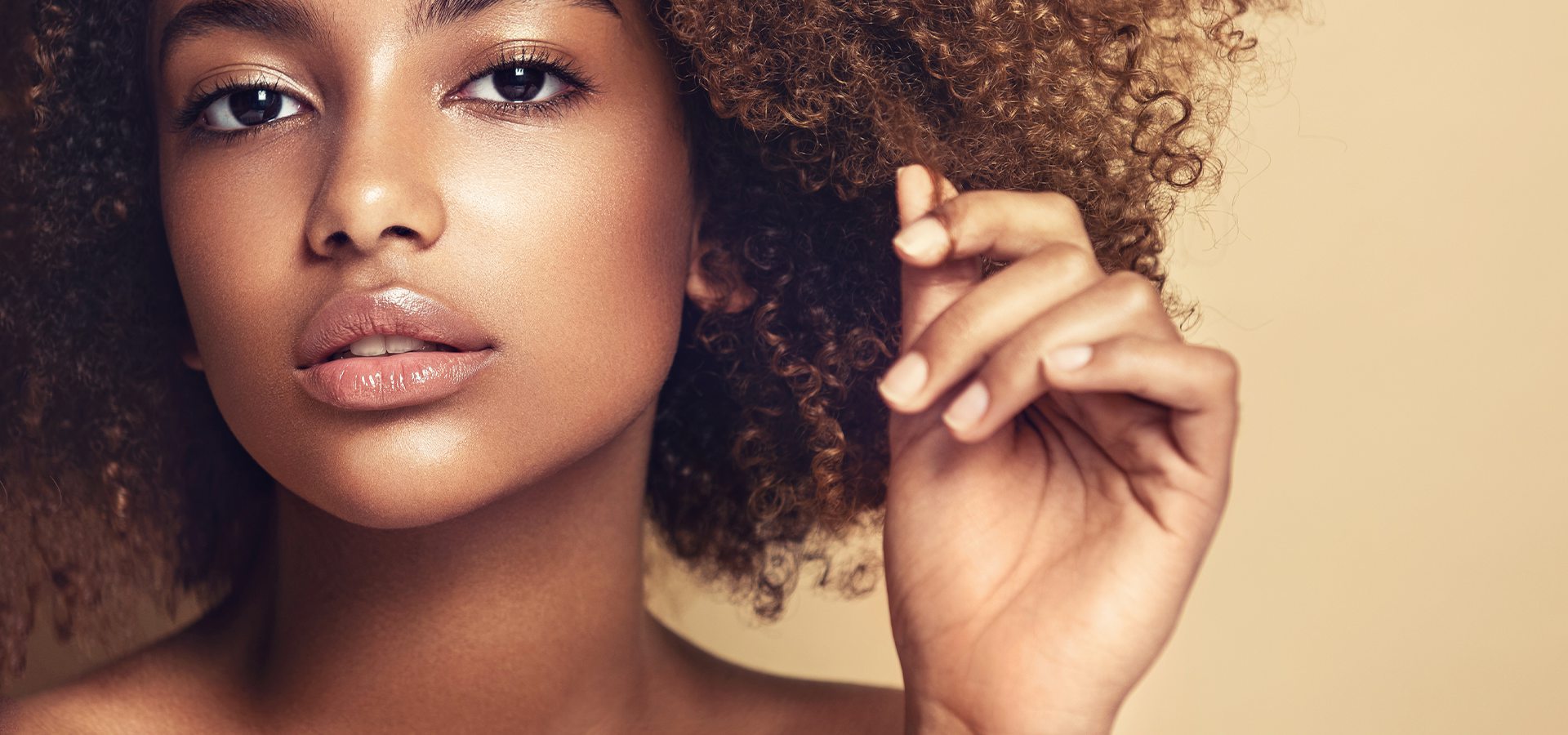 Real patients. Real Reviews.
"Thank Dallas Surgical Arts for a staff that is phenomenal!"

Amy H.

"I look forward to more outstanding results."

Roslyn G.

"Will most definitely return here if I need anything else done in the future. <3"

Heather M.

"The experience could not have gone more smoothly."

Alexandra C.

"We would for sure be back for any other needs and are so thankful for Dr. Sanovich and his staff!"

Laura M. The Time is now
Request a consultation