Dental Implants
Dental Implants: A Game Changer
The dental implant is one of the most important advancements in oral health to come along in recent times. For most patients, dental implants are the preferred choice for replacing missing teeth, as they look and feel just like natural ones! At Dallas Surgical Arts, we help people rediscover the simple joys of life such as eating, smiling and talking every day with the help of dental implants.
Dallas Surgical Arts Offers Video Consultations
We are currently treating patients with dental emergencies during this turbulent time. You can book an in-office appointment, or a video appointment that you can participate in from the comfort of your home.
What is a dental implant?
Dental implants are titanium screws that are inserted into the jawbone in place of missing teeth. Through an extraordinary process known as "osseointegration", titanium is able to fuse with bone. The process takes 1-3 months, and after it is complete, you will have a foundation for a prosthetic tooth that is just as strong as your natural tooth was.
Dental Implants Presentation
To provide you with a better understanding of dental implants, we have provided the following multimedia presentation. Many common questions pertaining to dental implants are discussed.
Benefits of Dental Implants
Allow you to eat any foods
Look totally natural
Last a lifetime
Won't slip or fall out when talking
Preserve the jawbone
Dentures, Bridges and Bone Loss
While dentures and bridges serve an important need for patients, they do so only temporarily, and without the life-enhancing benefits afforded by dental implants. Dentures and bridges are quick solutions to the missing tooth dilemma, but they require regular replacement and maintenance.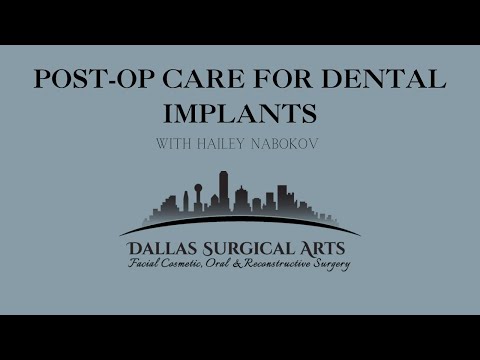 Technology for Premium Dental Implants
As a practice that is committed to providing our patients with premium dental implants, Dallas Surgical Arts thoroughly understands the important role that technology plays in the process. We update our technology, tools and skills regularly to keep our services cutting-edge and we always strive to provide better and better services to our patients.
Dental Implants Procedure
Consultation: Because every individual's case is so different, the consultation phase is a critical part of the dental implant process. During this initial stage, Dr. Sanovich or Dr. Sanovich will collect imaging, medical and dental histories to create a treatment plan that takes into consideration your health goals and your budget.
Extraction: If necessary, we will extract the tooth in our office. Sometimes we are able to place the dental implant at the same appointment as extractions. In other cases, bone-grafting material is placed to preserve the jawbone while we plan the implant process.
Bone Grafting: If the tooth has been missing for an extended amount of time, it is likely that you will need bone grafting prior to implant placement. Bone grafting adds a few months to the dental implant process, but is a necessary step for most people.
Implant Surgery: The insertion of the dental implant takes about 30 minutes to an hour (for a single implant). You will be anesthetized for comfort the entire time.
Osseointegration Phase: The implant is left alone for about 3 months while it fuses with the jawbone.
Final Crown Restoration: Once the implant has fused successfully with the bone, you will return to your general dentist for the fabrication of a beautiful final crown.
"Don't be afraid to Smile."
For years I'd felt like a part of my body was missing — because my teeth were. My dentist told me that dental implants would make me feel and look a lot better. OK, I said. Now, I'm thrilled. I can smile, eat anything, and enjoy a good laugh with my friends.
Dental Implants FAQ
How long do dental implants last?
Dental implants can last a lifetime, as long as you take good care of them. This means regular brushing, flossing and dental cleanings.
Does dental implant surgery hurt?
No. The surgical site will be totally numb throughout the surgery and for a few hours after. Some people experience soreness for a few days following surgery, but are able to relieve any discomfort with over-the-counter pain medications.
What is it like to have a dental implant?
Dental implants feel and function just like natural teeth. You will be able to chew, bite, laugh and smile with the same force that you used to!
Can I afford dental implants?
While it is true that dental implants cost more at the beginning of the process than dentures and bridges, they also last much longer (often for a lifetime), which helps to close the gap in cost (bridges and dentures require frequent maintenance and replacement).
How much work will I miss for implant surgery?
Most of our patients take the remainder of the day off following surgery, but are able to return to work the next day.
What if I am missing all or most of my teeth?
For patients that are missing a full row (or most) of their teeth, we offer implant-supported dentures – an affordable, one-day process that features the placement of a permanent denture on just four implants.
What are the risks?
Dental implants are considered to be an extremely successful procedure, with a success rate of up to 98%. However, as with any minor surgery, there are some possible risks, including infection and injury to adjacent teeth. With advances in technology, these risks are extremely minimal.
For an exceptional dental implant experience, please call Dallas Surgical Arts at Dallas Surgical Arts Phone Number 972-776-4888.
---
Dallas Surgical Arts offers Dental Implants for patients in Dallas TX and surrounding areas. Call Dallas Surgical Arts Phone Number 972-776-4888 today.
---