Financial Information
We accept all major credit cards in addition to cash, personal check, cashiers check, and money order.
All financing is independent of our office. Applications can be made directly over the Internet in some cases.
CareCredit is a credit card exclusively for healthcare services. With CareCredit, you can pick from a number of fixed, low interest plans that include periods of 24, 36, 48 and 60 months. Our office only participates in the no interest repayment plan with a 6-month term. Click here to apply online for an immediate decision.
Our financing covers a variety of Cosmetic and Dental procedures, including:
Face lift
Injectables and fillers (Botox, Dysport, Jeuveau, Restylane, Juvederm)
Neck liposuction
Brow lift
Skin resurfacing (facial rejuvenation, CO2, Matrix fractional resurfacing)
Facial implants
Eyelid surgery
Otoplasty (Ear surgery, ear reduction, ear reshaping)
Rhinoplasty (Nose surgery, nose reshaping)
Chin reshaping
Fat transfer
Neck lift
Skin lesion removal
Skin care procedures (Facials, FotoFacials, dermaplaning (micropeel), microdermabrasion, and facial peels (chemical peels)
Skin care products (Obagi, SkinCeuticals, Rhonda Allison, Neova, AmazingFaces)
Wisdom tooth extractions
Extractions
Exposure and bonding of teeth for orthodontics
Orthognathic surgery
TMJ treatment and TMJ surgery
Sinus lift
Dental implants
Alphaeon Credit
YOUR BEST YOU IS CLOSER THAN YOU THINK
With the ALPHAEON CREDIT card*, you'll find a wide array of monthly payment options to help your reach your individual goals.
The ALPHAEON CREDIT card allows you to move forward today without delay. Plus, with special financing options not available with other credit cards, you may find the ALPHAEON CREDIT card is the better way to pay.
With the ALPHAEON CREDIT card, you can receive the care your physician recommends with flexible payment options that fit your lifestyle.
Apply today so you can focus on looking, feeling, and being your best.
*Subject to credit approval and availability. Purchase must be made using the ALPHAEON CREDIT Card Account. ALPHAEON CREDIT Card Accounts are offered by Comenity Capital Bank which determines qualifications for credit and promotion eligibility. Account must be in good standing at the time of purchase. At no time will the minimum payment due be less than $27.00. Minimum interest charge is $2.00 per credit plan. Standard variable APR of 28.99%, based on the Prime Rate. Comenity Capital Bank issues ALPHAEON CREDIT Card Accounts which can be used with participating physicians.
GreenSky Patient Solutions® Program
The GreenSky Patient Solutions ® Program provides leading financial technology to healthcare providers throughout the country. This technology offers fast, frictionless and attractive promotional financing options to patients who qualify. Financing is provided by federally insured, equal opportunity banks. With the simple click of the mouse, this secure service gives you access to: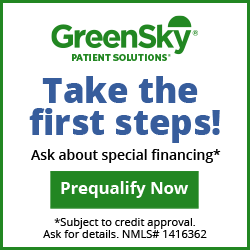 Easy application process
Most loan decisions in minutes
Multiple promotional financing options for qualified applicants
Online tools to manage your account